The EarthZest 100% Organic Daily Facial
The EarthZest 100% Organic Daily Facial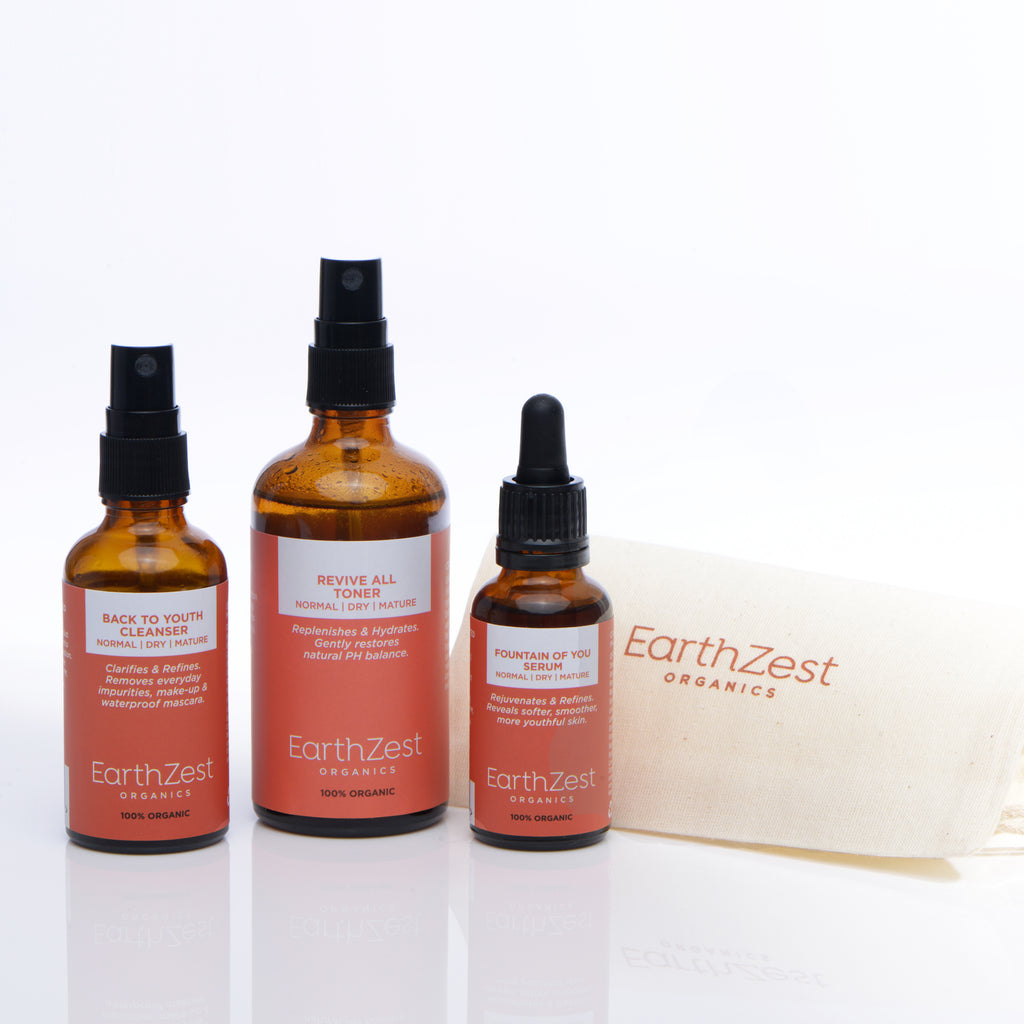 For my first ever blog, I'm going to start with the basics - our 3-step organic daily facial routine. This is a simple way to rapidly re-balance and rejuvenate your skin and it only takes 10 minutes a day!
I've now launched 2 money-saving daily starter kits that allow you to cut out all synthetic chemicals and streamline your daily facial routine. All our natural skincare products are suitable for vegans and use only organic ingredients. These kits will super-charge your skin and I believe you will see visible results almost immediately - although it will take up to 3 months to see the full effects (as this is how long it takes for the lower layers of the skin to make their way to the surface).
Each Daily Skincare Kit contains a hand-blended Cleanser, Toner and Moisturising Serum 30ml, which have been painstakingly formulated over the past 6 years to achieve the best results for each skin type. Your skin will finally be able to detoxify, re-balance and regenerate in a way you never thought possible! I know we are all different and it's impossible to create a range that will suit absolutely everyone; however, I believe these unique products are perfect for the vast majority of people - even those suffering with skincare problems like eczema, psoriasis, acne, dermatitis etc. The ultra-pure organic skincare products are packed with essential oils, natural vitamins, essential fatty acids, omegas and anti-oxidants which are proven to work in synergy with the skin to re-balance and replenish it in a totally natural way.
Daily Skincare Kit for Normal, Dry & Mature Skin - choose this kit if your skin is ageing, dry, sensitive and dull.
Daily Skincare Kit for Normal, Oily & Combination Skin - choose this kit if you have problem skin and are prone to break-outs, acne and blocked pores.
I will now run through the 3-step routine which should be done twice daily for optimum results:-
Step 1 – Moisten & Cleanse

Because I never add water to any of my products, moisten your face first with warm water and then apply 3 pumps of the Cleanser to a piece of moist cotton wool (or apply to the fingertips, if preferred). Gently cleanse your face, using upward, circular motions and repeat, if necessary.
Daily cleansing is needed as a makeup remover and to remove dirt and dead skin cells that can build up and cause blocked pores and dull, sluggish skin. Moistening the skin first will improve absorption of the Cleanser and make it easier to use.
Step 2 - Hydrate & Tone

Spritz some Toner on to a new piece of cotton wool and apply to the face, again using upward, circular motions. 
Toning your skin will complete the cleansing process and remove any remaining dirt, excess oil, makeup and dead skin cells. My toners will also hydrate your skin as they are made from the steam distillation of organic plants and flowers and contain lots more highly beneficial skin properties and NO alcohol (which is often found in conventional - and even organic - toners).
Step 3 – Moisturise
While your skin is still moist from applying the Toner in Step 2, apply 2-4 drops of the Moisturising Serum to your fingertips and gently massage in to your face and neck, using upward, circular motions.
My hand-blended moisturising serums are very different to conventional facial moisturisers which are usually made of water, synthetics and very little else! Earthzest moisturising serums are 100% organic and natural and contain NO added water or cheap fillers and. This makes them ultra-concentrated and extremely effective.
Moisturising will complete your daily routine and give your skin a deep surge of organic hydration, which will not block the skin, even if you have oily, problematic skin. This is because the oils I use in my serums are not mineral oil, which is a petrochemical. Instead, I use botanical oils that are all 100% organic and very similar to the structure of our own skin. Making it the perfect skin food to naturally re-balance sebum production and give the skin a soft, natural glow.
My Daily Skincare Kits offer savings on the cost of buying the 3 products separately and come with a free, natural cotton drawstring bag. Give yourself some TLC time or show someone how much you love them by purchasing an organic skin gift set. We don't just offer natural skincare for face, there's something for everyone at EarthZest as our range covers everything from lip care to stretch mark and beard oils.
Get your skin ready for Spring and go 100% organic today!

Order here: https://www.earthzest.co.uk/collections/for-face

Jackie Callow
Founder, EarthZest Organics